4x Orange Warning Plate Label, Individualized, 400x300mm, 1pc per Sheet
Adhesive label, PE/PP/PET material, strongly adhesiveWarning sign can be used in accordance with the currently valid ADR, RID, IMDG codeDimensions sheet: 302x420mmLabel dimensions: 300x400mm + 16mm peel-off edgeExecution: sheets/sheetsAdhesive: Strong adhesiveSeawater certified to BS 5609 Section III
Orange plate label, 33/1114, 400x300mm, 1 pc per Sheet
Kemler Number / UN-Number:
33/1114
Dangerous goods label "Orange Warning Sign" according to ADR, RID, IATA, IMDG CodeYou are always on the safe side with Orange Warning Signs from BOXLAB Services. All our Orange Warning Signs are available in the standard 400x300mm format and are of a quality that exceeds ADR requirements. BOXLAB From Label for hazardous goods labeling outdoors have a seawater resistance according to; BS 5609 Section III and are fully customizable.MaterialAll dangerous goods labels from BOXLAB Services are made of a special material and are therefore particularly weatherproof, oil and dirt repellent. The material is characterized by a high degree of flexibility, so that it also adapts well to curved surfaces. It remains very temperature-resistant. The special adhesive, certified to BS 5609 Section III, adheres exceptionally well even to critical surfaces.Application: It is recommended with appropriate pre-cleaning (BOXLAB Bio Cleaner, Art. 610002) and a squeegee (BOXLAB squeegee, Art. 610001) to apply the posters in order to create the optimal adhesion. To remove old Orange Warning Signs, an injury-proof scraper (BOXLAB safety scraper, Art. 610003). Class 3 hazard: Flammable liquids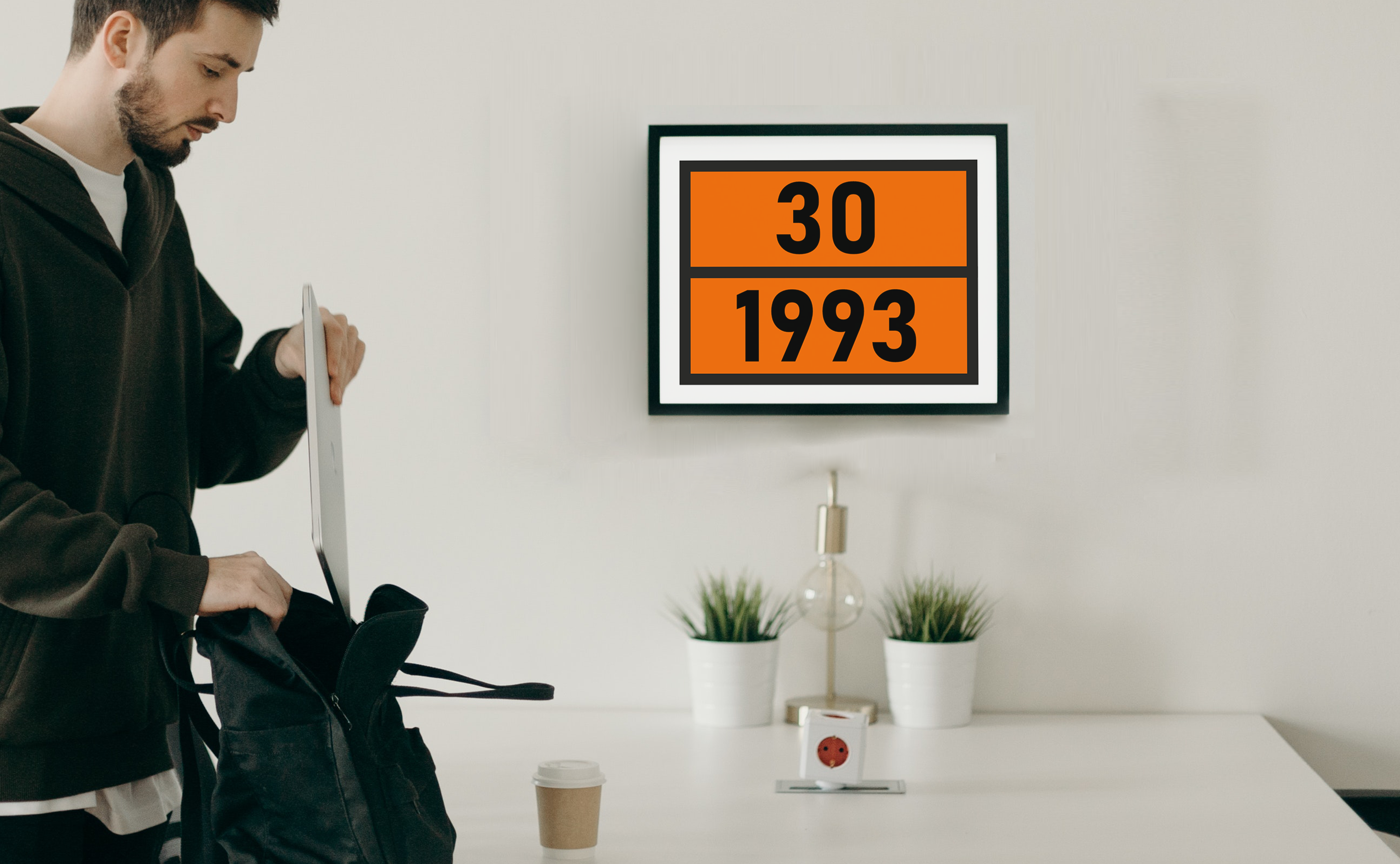 Warning sign, 400x300mm framed in wood picture frame with mount
Our personalized warning plate is the perfect gift for anyone who loves and lives hazardous goods. This warning plaque comes in an elegant picture frame with mount and is a great way to celebrate your birth year in a unique and stylish way.Each warning plaque is custom made for you by personalizing it with the year of your birth. The warning plaque is also a great conversation starter and eye catcher in any room.Our frame with mount is also of the highest quality and will add a touch of elegance to your living room, bedroom or office. The frame is designed to perfectly frame and highlight the warning sign to really show it off.This personalized warning plaque is the perfect gift for birthdays, anniversaries, or any occasion where you want to express your love of history and your passion for your own past. Order now your custom warning plate and decorate your home with a unique and personal piece of history!