IMDG-Code 2023 Starter Kit - Hazard Label
Product information "IMDG-Code 2023 Starter Kit - Hazard Label"
IMDG-Code 2023 Starter Kit - danger label
Get the practical BOXLAB starter kits and convince yourself of our quality. In addition to the current IMDG-Code 2023 and 100 individually compiled danger label samples, our exclusive IMDG-Code Starter Kit contains a practical safety scraper for removing old labels including risk assessment, our BOXLAB BIO cleaner for quick and optimal cleaning of surfaces , as well as a practical squeegee for bubble-free attachment of new placards or danger labels for optimal hold.
For product properties, please refer to the respective individual products in our shop.
IMDG Code 2023 on the Amdt. 41-22: The most important national and international dangerous goods regulations that you need for sea transport!
Switch pages: to the new IMDG Code 2023  (Amdt. 41-22). With all major and minor changes in the 2023 dangerous goods regulations for sea transport.
Who transport dangerous goods on the sea and ensure smooth intermodal transport chains ;wants to and should do so, must use the latest version of the IMDG code !
You can the IMDG Code 2023 already from probably January 2023, you must apply it from probably January 2024.
NEW in the IMDG code from January 1st, 2023:
Notes on strong acids deleted, elimination of the separation group SGG1a and the separation requirement SG75
New special regulations SV 396, 397, 398
In the transport document molten, chemically stabilized substances and transport under temperature control must be explicitly noted
And much more!
| | |
| --- | --- |
| Author: | ecomed-Storck GmbH |
| Dimensions: | 17,0 x 24,0 cm |
| Format: | Softcover |
| ISBN: | 978-3-86897-467-6 |
| Publication date: | 16.12.2022 |
| Publisher: | Storck Verlag Hamburg |
| Scope: | 1504 Seiten. Mit Download |
| Single price (gross): | 199,99€ |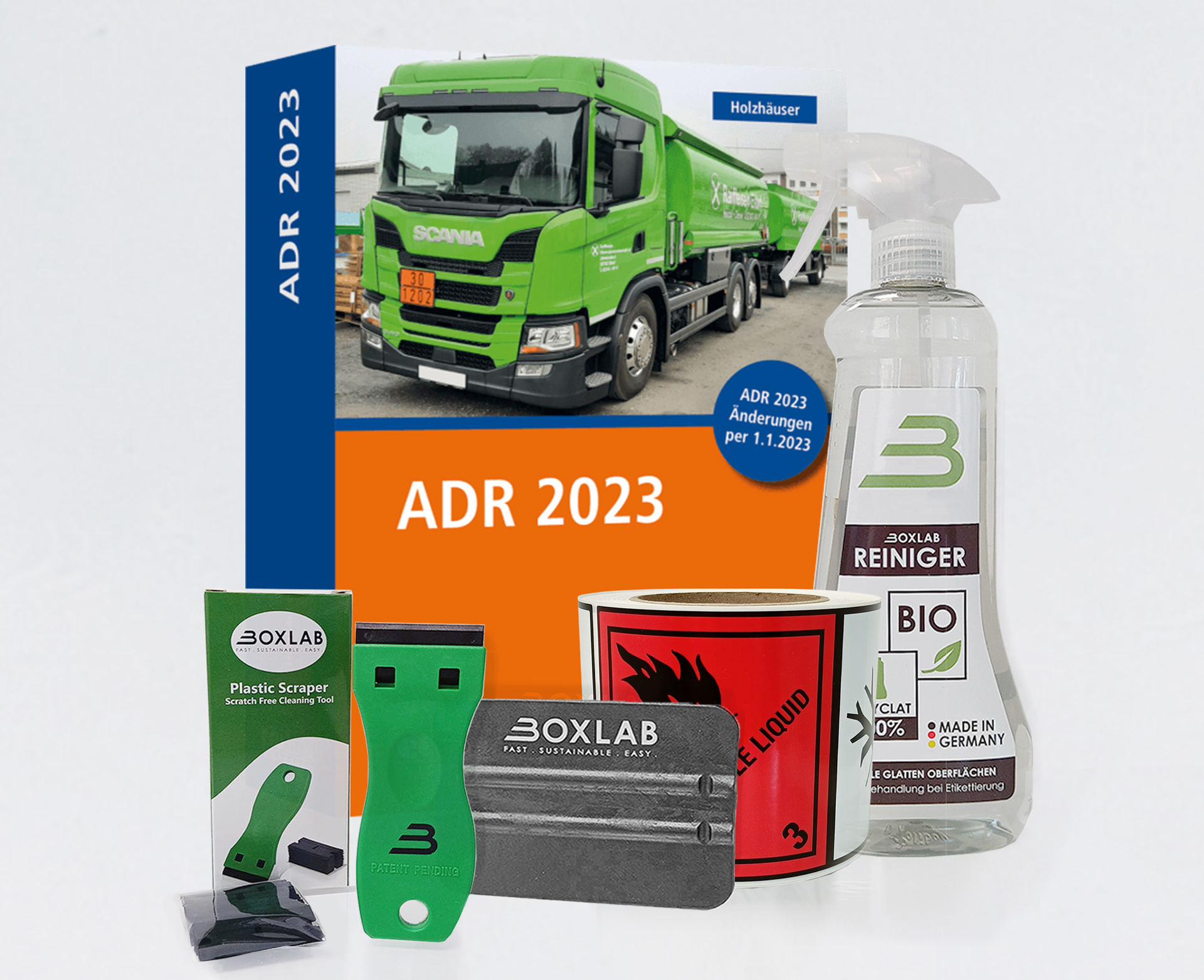 ADR 2023 Starter Kit - Hazard Label
ADR 2023 Starter Kit - danger labelsGet the practical BOXLAB starter kits and convince yourself of our quality. In addition to the current ADR 2023 and 100 individually compiled hazard label samples, our exclusive ADR Starter Kit contains a practical safety scraper for removing old labels including risk assessment, our BOXLAB BIO cleaner for quick and optimal cleaning of surfaces , as well as a practical squeegee for bubble-free attachment of new placards or danger labels for optimal hold.For product properties, please refer to the respective individual products in our shop.BOXLAB Bio Cleaner, item 610002BOXLAB squeegee, item 610001BOXLAB safety scraper, item 610003BOXLAB danger label 100x100mmADR 2023: The latest on dangerous goods transport on the roadß eRegardless of whether it is the sender, packer, carrier or recipient of a shipment – If you are involved in the transport of dangerous goods by road , you must know the applicable ADR regulations very well!And not only that, but From January 1st, but at the very latest after the end of the transition period from July 1st, 2023 you must actually ADR 2023  apply if you want to have dangerous goods transported by road. The ecomed SECURITY ADR 2023 organizes and develops the complex ADR regulations.In addition to the wording of the ADR 2023, the ecomed book edition of the ADR 2023 the current legal status:the Dangerous Goods Transport Act (GGBefG)the Dangerous Goods Ordinance for Road, Rail and Inland Waterways (GGVSEB)the Implementation Guidelines for Dangerous Goods (RSEB)the Dangerous Goods Exception Ordinance (GGAV)the Dangerous Goods Officer Ordinance (GbV)the Dangerous Goods Control Ordinance (GGControlV)an overview of the applicable ADR agreementsan alphabetical list of substancesan extensive, detailed indexEverything you need to know about the Transport of dangerous goods by road can be found in the ADR 2023:Scope of application, definitions of terms and transitional provisionsExceptions and exemptionsClassification and corresponding test methodsUse and construction, design and testing of packaging, IBC, bulk packaging and tanksRegulations for shipping, marking, labeling, Documentation and transportation implementation
€59.99*

€87.74*

(31.63% saved)
RID 2023 Starter Kit - Hazard Label
RID 2023 Starter Kit - danger labelGet the practical BOXLAB starter kits and convince yourself of our quality. In addition to the current RID 2023 and 100 individually compiled danger label samples, our exclusive RID Starter Kit contains a practical safety scraper for removing old labels including risk assessment, our BOXLAB BIO cleaner for quick and optimal cleaning of surfaces , as well as a practical squeegee for bubble-free attachment of new placards or danger labels for optimal hold.For product properties, please refer to the respective individual products in our shop.BOXLAB Bio Cleaner, item 610002BOXLAB squeegee, item 610001BOXLAB safety scraper, item 610003BOXLAB danger label 100x100mmFor the transport of dangerous goods by rail: RID 2023If you are responsible for the transport of dangerous goods by rail, you must apply the current version of RID. The RID 2023 will come into force in January 2023. The transitional period for RID 2021 ends on 06/30/2023. You must therefore apply the RID 2023 by 01.07.2023 at the latest!The RID 2023 is due to numerous Marginal references to relevant references also included in other dangerous goods regulations, which contain e.g. simplifications, exceptions, etc. You will find out immediately whether facilitation is possible for the transport of dangerous goods in question. Time-consuming research in the regulations, on the Internet or in the traffic bulletin is thus superfluous.The extra detailed index considers all the regulations contained in the book . This makes it even easier for you to find the information you are looking for in the book RID 2023 very quickly.With carefully created sources .Thanks to the precise fine structure with the subheadings inserted by the publisher, you will find the right passage immediately.In addition, the changes compared to RID 2021 are highlighted in gray in the text and are thus particularly highlighted. NEW in RID from 1.1.2023:New transitional regulations for the accreditation of testing bodies for r tank wagonSeveral changes in Table APolymerizing substances  with low SAPT, for which a temperature control is required are no longer permittedFor tank wagons and folding panels: explicit tests of the panels and their security required< strong>And much more!The book RID 2023 gives you answers to the questions:Who has which obligations in the transport of dangerous goods?What are the requirements for labelling, documentation and transport?What are the requirements for the Securing dangerous goods transports must be observed?The book RID 2023 contains:RID 2023an overview of applicable RID special agreementsa detailed index
€79.99*

€107.74*

(25.76% saved)